This is your lifetime bike. The Hammer Track Ti takes everything we've learned from building bikes the last ten years. It's our lightest and most durable track frame. We cut no corners by using aerospace grade titanium that is custom formed and butted in house. We also heavily relied on CNC machining and and 3D printing to cut weight and keep the lines clean. This is a race worthy machine that doesn't feel overly stiff, while still providing an aggressive ride feel.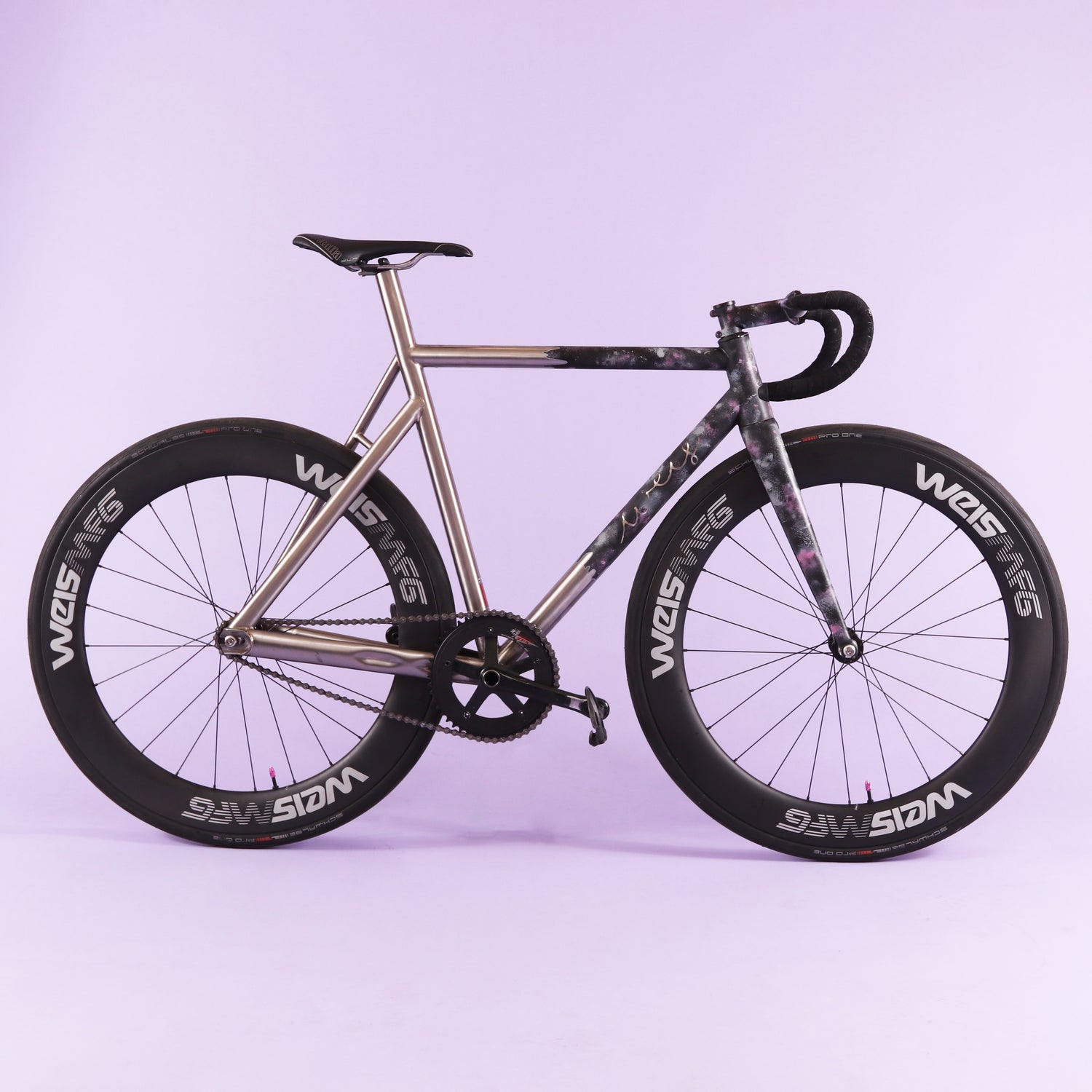 Lifetime Warranty
We stand behind the work we do here, a titanium bike is a lifetime bike. All of our Ti creations come with a lifetime warranty.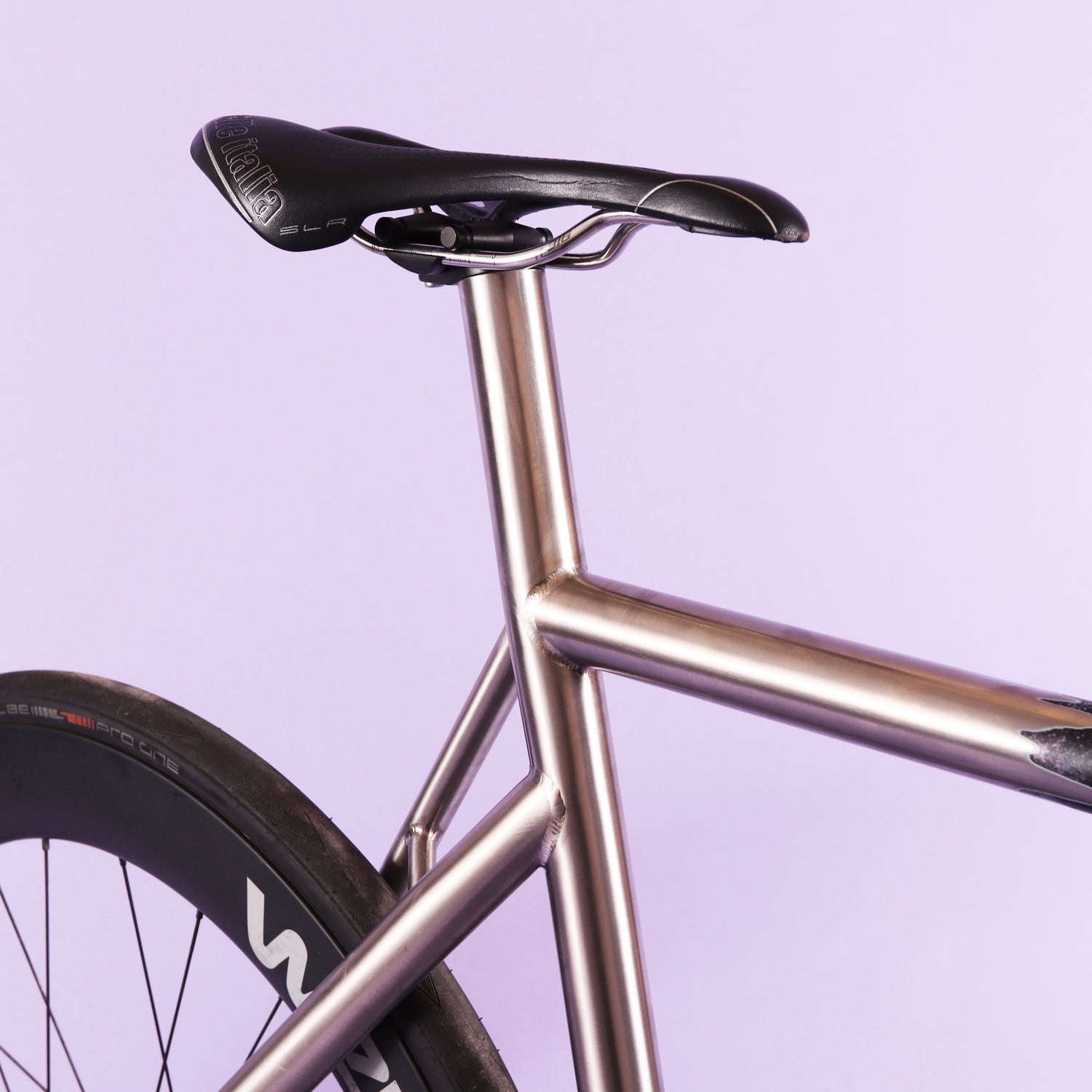 Integrated Seat Mast
Our custom molded carbon fiber seat mast gives the best of both worlds, a trusty metal bike with the lightweight and dampened ride quality of carbon. Lightweight, fast and comfortable.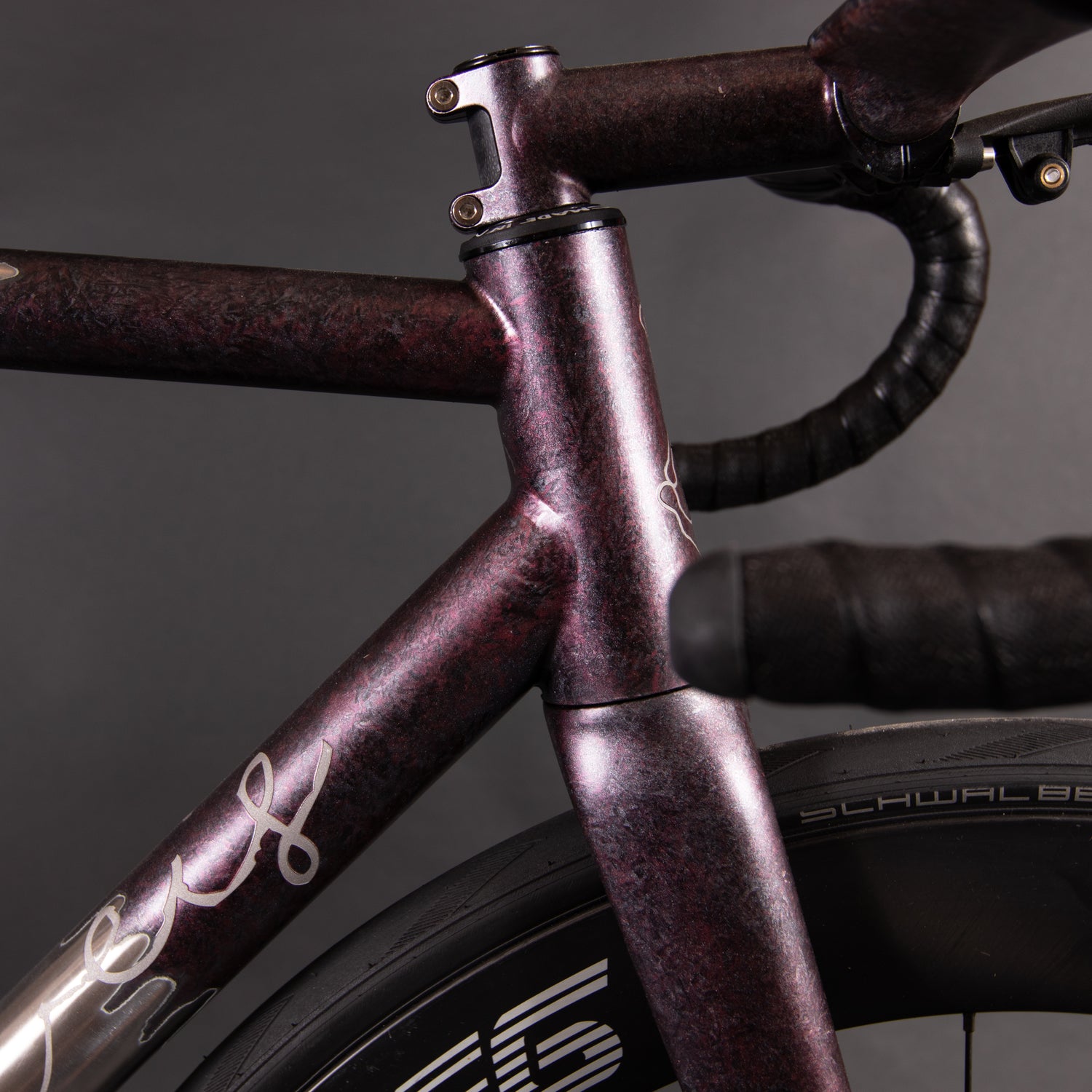 Seamless 3/2.5 Tubing
Seamless tubing butted, cut and formed in house to your specifications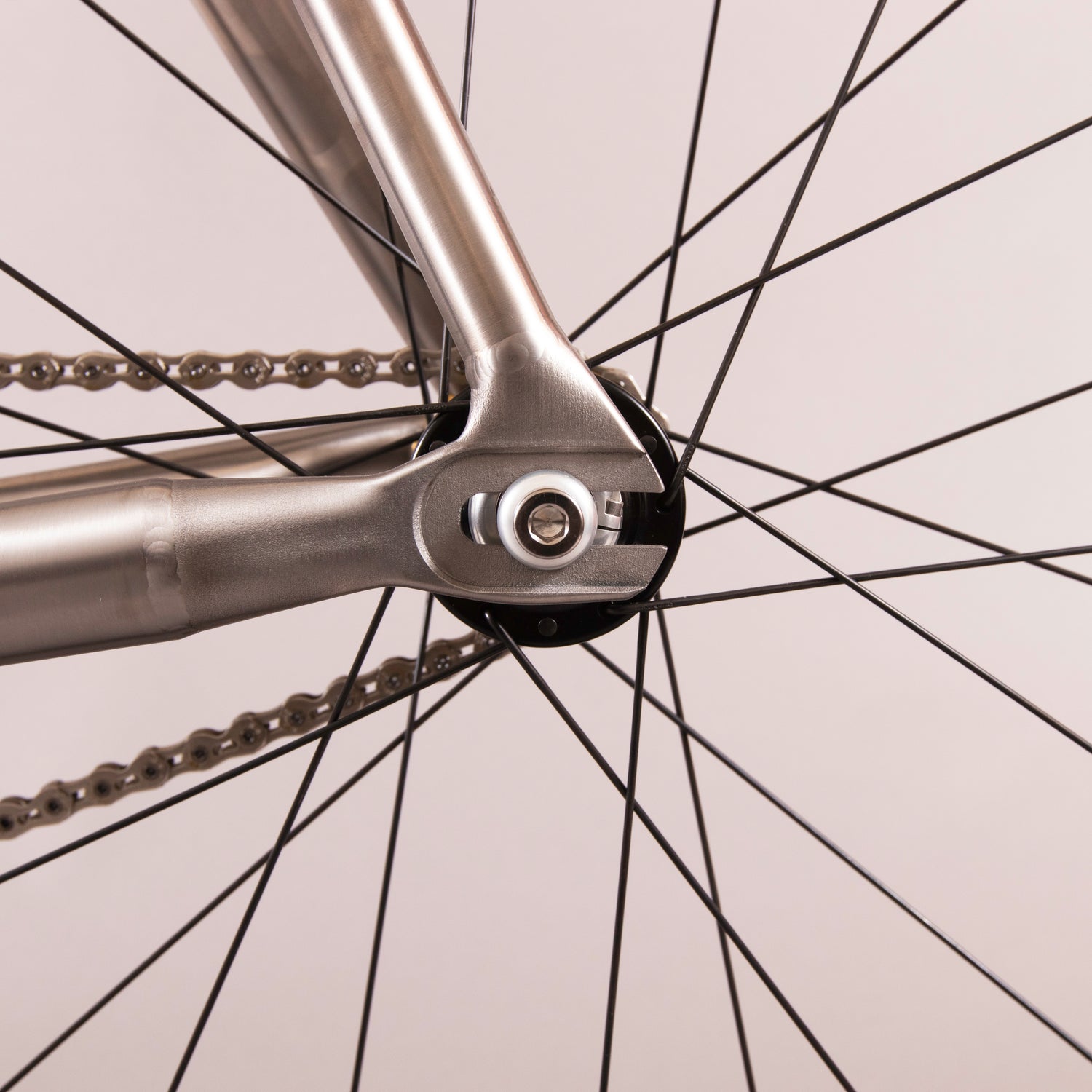 3D Printed 6/4 Titanium
The ability to 3D print in titanium allows us to create a lighter, stiffer, more customizable, more advanced frame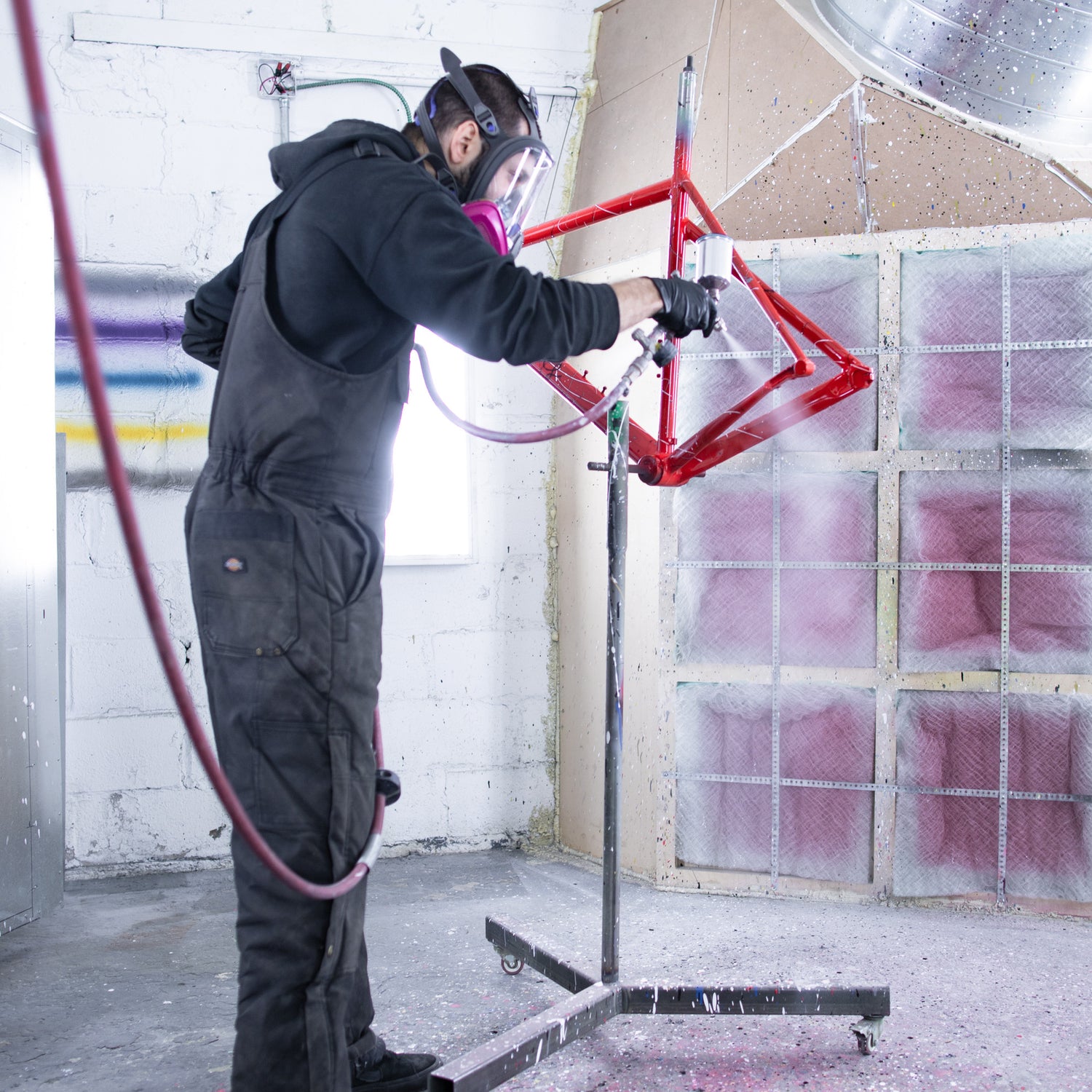 Make It Your Own
Each frame we build is designed specifically for the customer. We do not duplicate paint jobs, so your bike is one of one. We will work with you to help bring your dream bike to life.
Specifications:

-Seamless grade 9 Titanium Tubing 

-Weis Signature Internal Topper with 25 mm Up/Down Adjustment

-3D Printed 6/4 Titanium NDS Dropout With Internal Lattice Structure

-Integrated Bearing Headtube

-Double Pass TIG Welded Construction

-30c Tire Clearance (depending on rim width)

-BSA Bottom Bracket

-Frame Weight: 1.25 kg (Size 54)

What's Included:

-Lifetime Warranty

-Frameset With Choice Of

One Base Color + Logo Color

-Weis Signature Headset

-Weis Signature Internal Topper

-Front Brake Compatible

Full Carbon Tapered Fork

-Weis Signature Top Cap
| | | | | | | |
| --- | --- | --- | --- | --- | --- | --- |
| Frame Size | 49 | 52 | 54 | 56 | 58 | 60 |
| Head Tube Angle | 73 | 73.5 | 73.5 | 73.5 | 73.5 | 73.5 |
| Seat Tube Angle | 75.5 | 75 | 74.5 | 74.5 | 74.5 | 74.5 |
| Top Tube (Effective) | 500 | 530 | 550 | 570 | 580 | 600 |
| Seat Tube | 490 | 520 | 540 | 560 | 575 | 595 |
| Head Tube Length | 105 | 125 | 140 | 161 | 169 | 183 |
| Chainstay Length | 390 | 390 | 390 | 390 | 390 | 390 |
| BB Drop | 52 | 52 | 52 | 52 | 52 | 52 |
| Fork Rake | 43 | 43 | 43 | 43 | 43 | 43 |
| Axle To Crown | 370 | 370 | 370 | 370 | 370 | 370 |
| Stack | 495 | 513 | 531 | 549 | 559 | 570 |
| Reach | 370 | 391 | 391 | 417 | 424 | 436 |