The Hammer Road Ti is our most advanced frame in our lineup. We took everything we learned from years of racing and riding our Aluminum Road frames and applied it to the quality ride and feel of titanium.
Our asymmetric rear end keeps your sprints lively while our custom formed and butted titanium tubing allows for compliance and long days in the saddle. A lot of R&D went into this frame. From our superlight and customizable 3 piece headtubes, to the use of 3d printing technology to create our lightest frame yet, our dropouts are less than half the weight of traditional CNC parts due to the complex internal lattices that allow us to make hollow parts.  
We are offering this frame in ISP and standard seatpost configurations. For those of you that want the added stiffness and weight savings of an integrated carbon fiber seat mast we can make that happen. If you want the ease of travel and adjustability of a standard seatpost, that's fine too.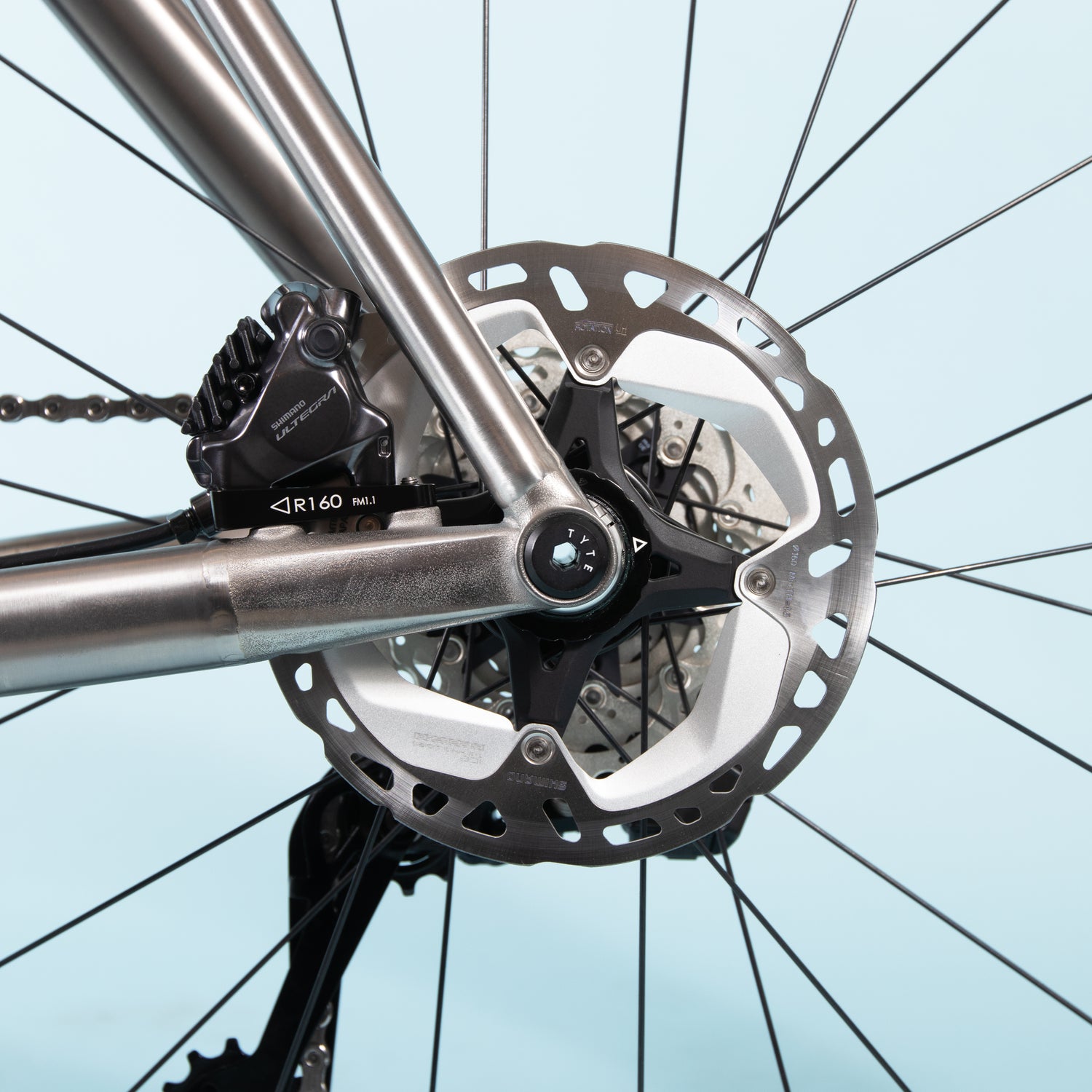 3D Printed Dropouts
Our in house designed dropouts are minimal, lightweight and versatile. We designed them to keep your frame future proof and crash resistant. With the use of a replaceable hanger system and syntace inserts you can never ruin your frame by bending your derailleur hanger or cross threading your axle, you can simply install a replacement and get back on the road.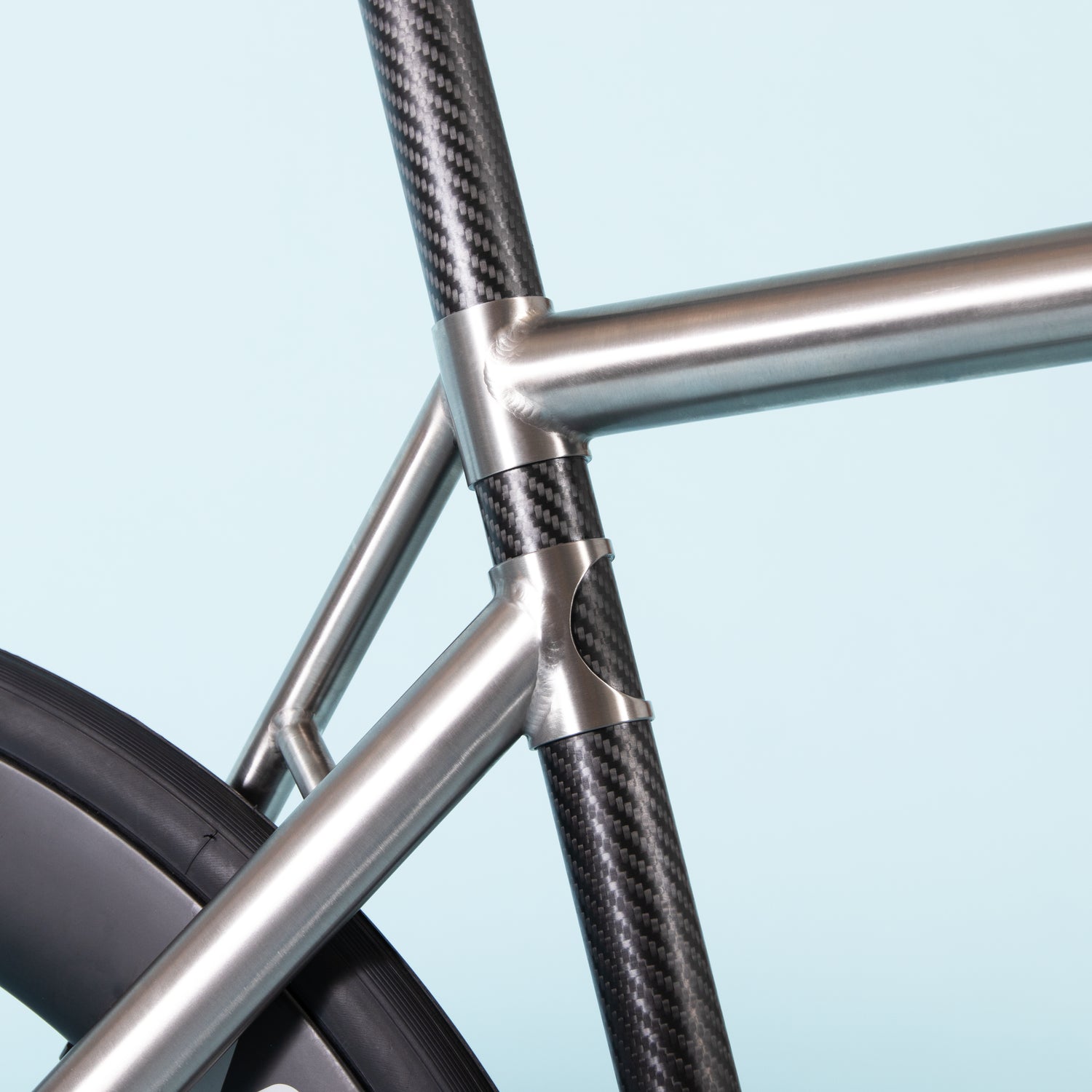 Custom Geometry
We offer custom geo to our customers for the perfect fit. Download and fill out our fit sheet, or we will partner with your local fit studio.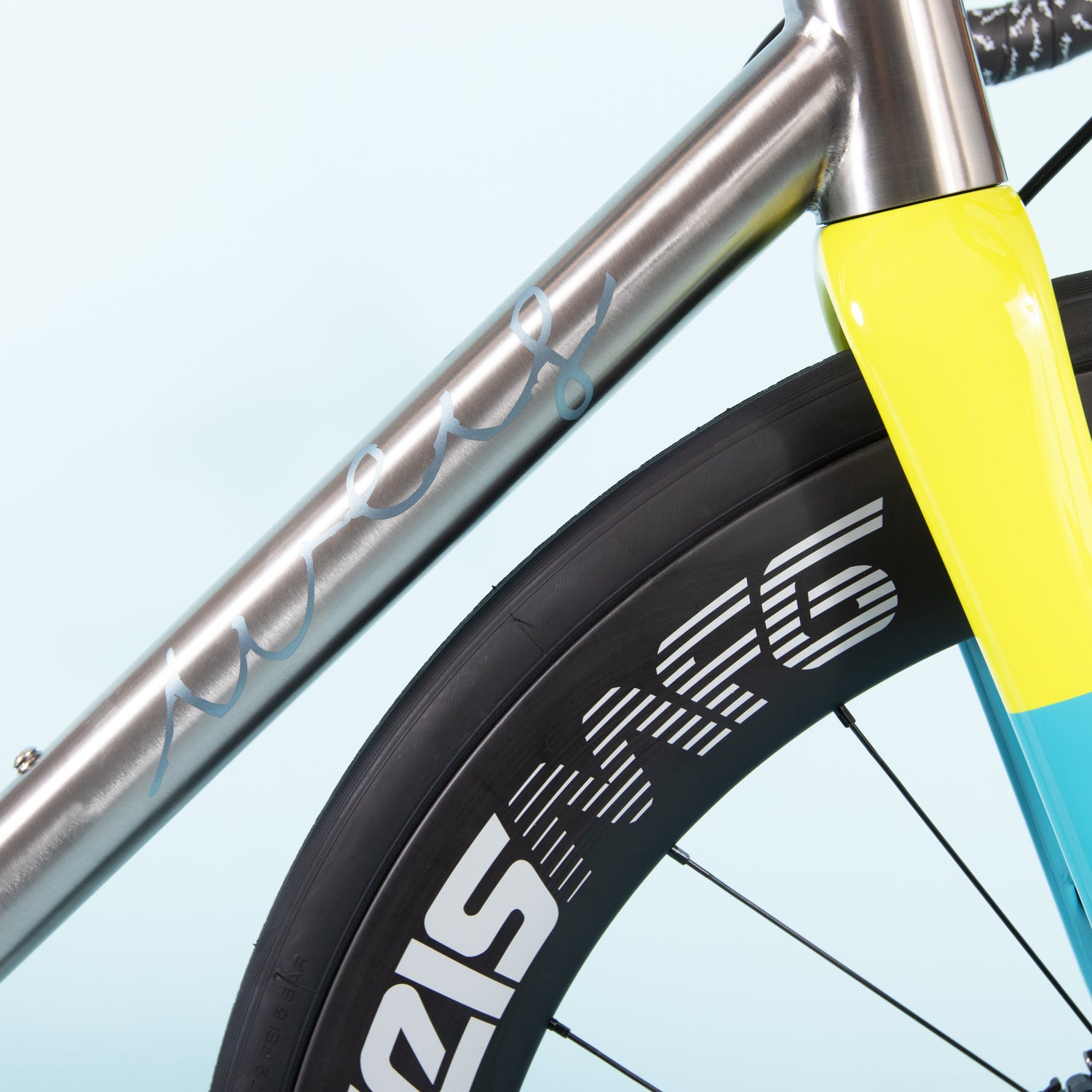 Fully Custom Finishing
We offer fully custom finishing with anodization, Cerakote, and paint. You can leave some raw titanium showing with brushed, polished, and ceramic blasted finishing options.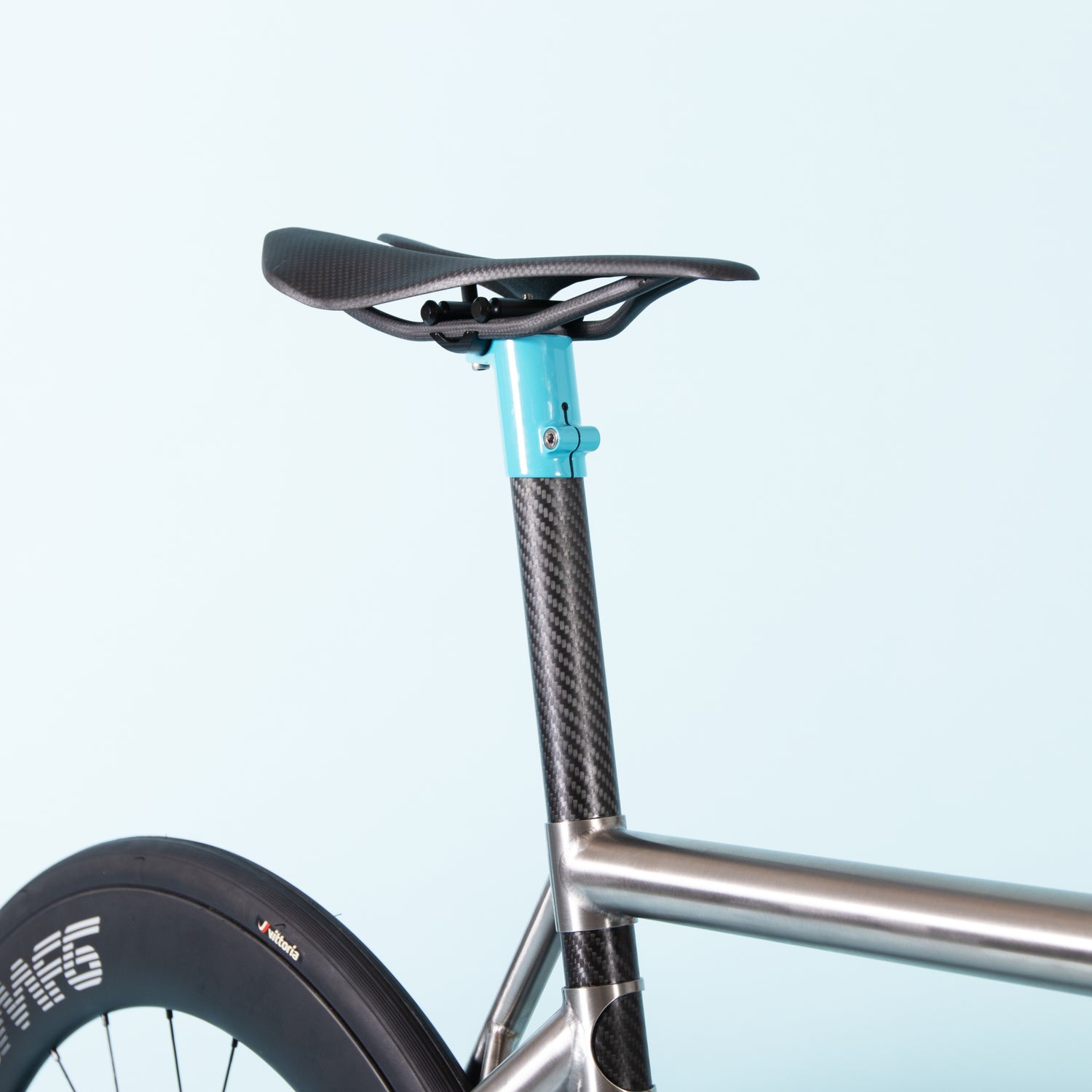 Optional Integrated Seat Mast
Our custom molded carbon fiber seat mast gives the best of both worlds, a trusty metal bike with the lightweight and dampened ride quality of carbon. Lightweight, fast and comfortable.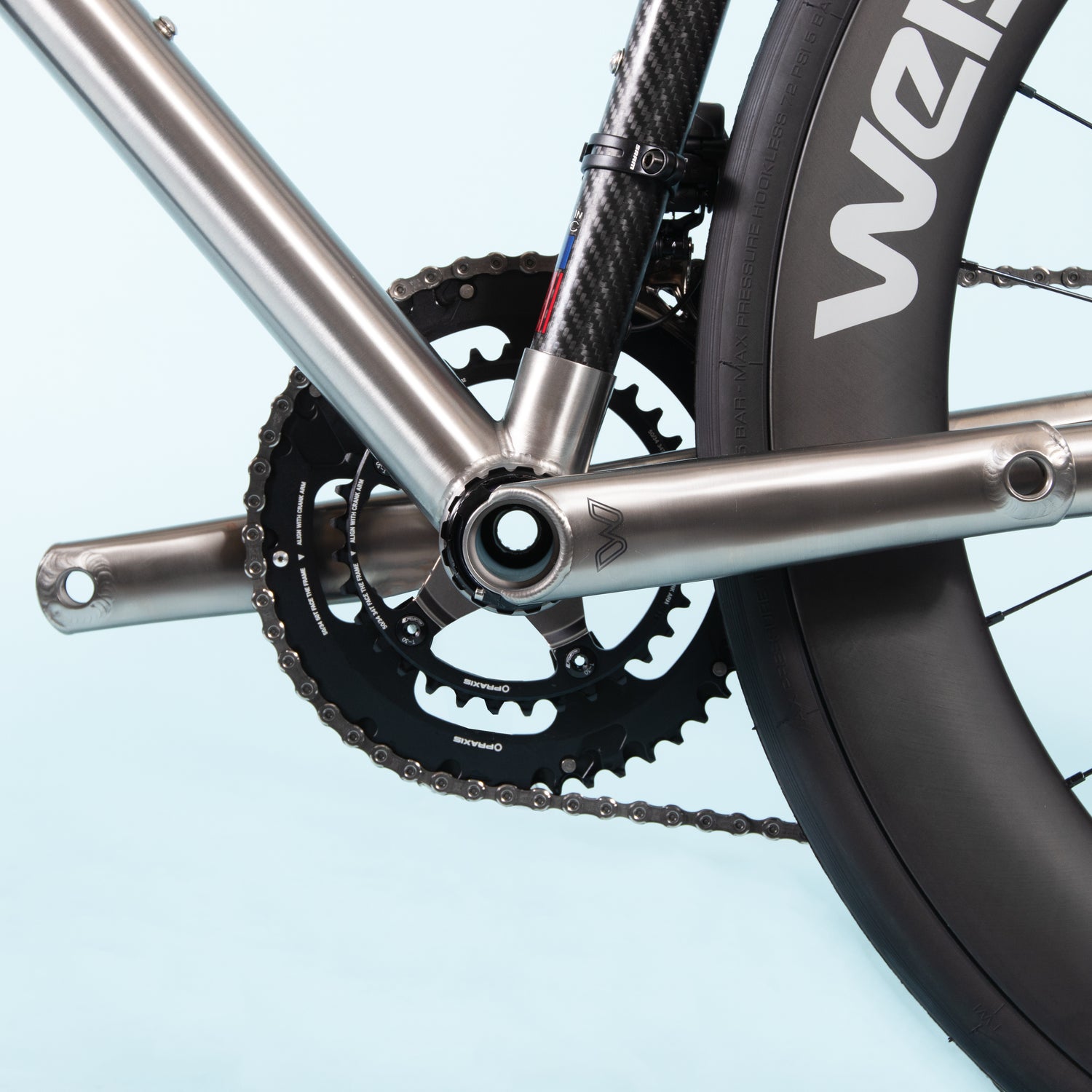 Tuned Ride
Our wide range of tubing with varying wall thicknesses and butting profiles allows us to tune our frames based on a riders size, weight and riding style. From sprinters to climbers and everything in between, we have you covered.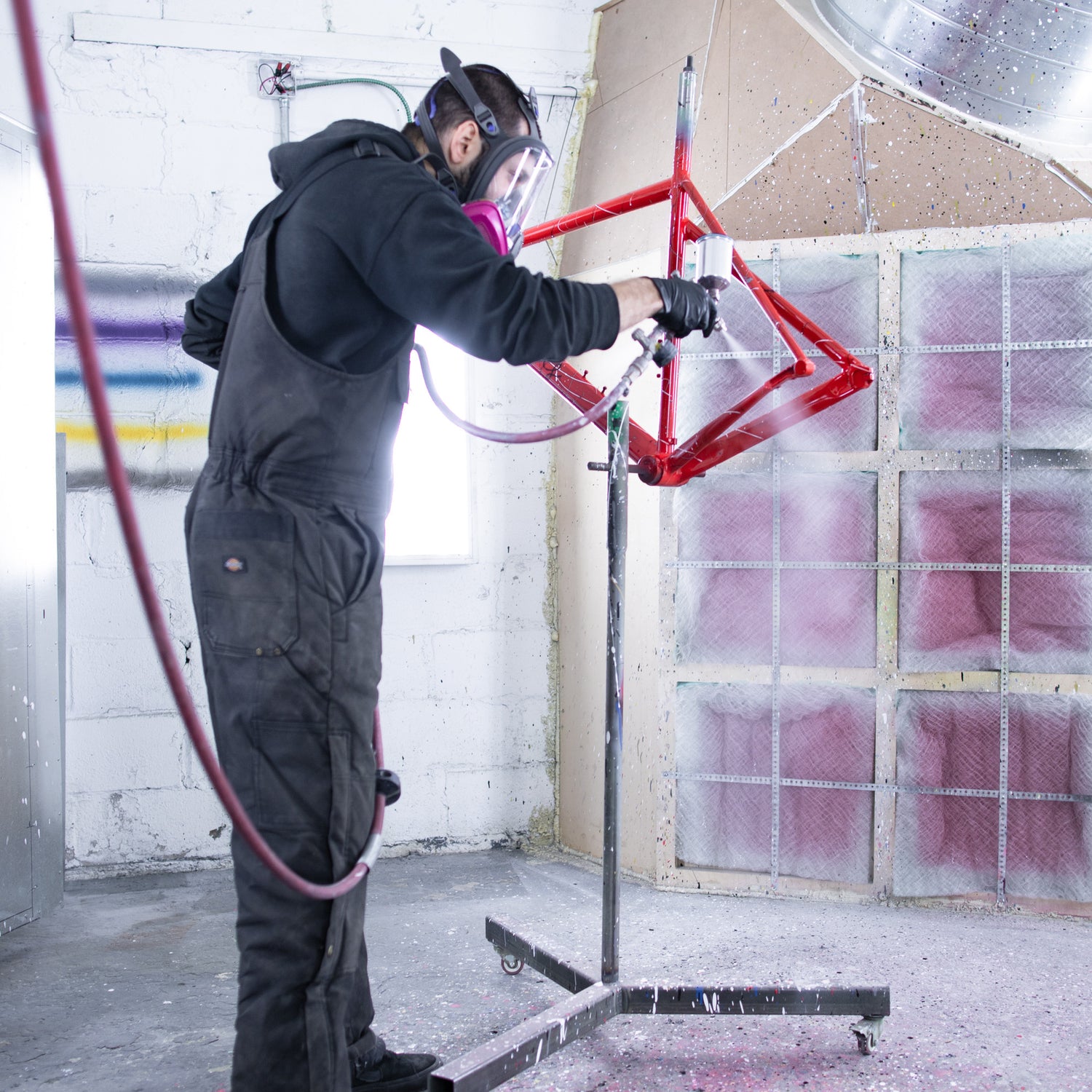 Make It Your Own
Each frame we build is designed specifically for the customer. We do not duplicate paint jobs, so your bike is one of one. We will work with you to help bring your dream bike to life.
Specifications:

-Grade 9 Titanium Tubing

-Custom Molded Carbon Fiber Seat Mast

-Multi-Pass Weld Construction
Weis Custom Tubing Profiles

-CNC Machined 3 piece Headtube

-3D printed 6/4 Titanium Superlight Dropouts

-Weistec Asymmetric Drive Side

-Replaceable UDH Derailleur Hanger

-32c Tire Clearance

-T47 Bottom Bracket

-Flat mount disc brake compatible

What's Included:

-Frameset With Ceramic Bead Blasted Finish and Single Color Anodized Logo

-Weis Signature Headset

-Weis Signature Seat Topper or Seat Collar

-Weis Signature Thru Axles

-Full Carbon Tapered Fork

-Lifetime Warranty
| | | | | | | |
| --- | --- | --- | --- | --- | --- | --- |
|  Frame Size | 49 | 52 | 54 | 56 | 58 | 60 |
| Head Tube Angle | 72 | 72.5 | 72.5 | 72.5 | 72.5 | 72.5 |
| Seat Tube Angle | 75 | 74.5 | 74 | 74 | 74 | 74 |
| Top Tube (Effective) | 500 | 530 | 550 | 570 | 590 | 600 |
| Seat Tube | 445 | 465 | 485 | 505 | 525 | 545 |
| Head Tube Length | 105 | 125 | 145 | 167 | 192 | 209 |
| Chainstay Length | 410 | 410 | 410 | 410 | 410 | 410 |
| BB Drop | 68 | 68 | 68 | 68 | 68 | 68 |
| Fork Rake | 45 | 45 | 45 | 45 | 45 | 45 |
| Axle To Crown | 370 | 370 | 370 | 370 | 370 | 370 |
| Stack | 507 | 527 | 548 | 570 | 591 | 609 |
| Reach | 363 | 378 | 392 | 406 | 420 | 425 |